An Excellent Combination

of Comfort, Durability,

and Cost Effectiveness.

Inventory Solutions

from a Safety Supplier

with Experience.

DuPont
DuPont provides industry leading protective options designed to keep you safe on the job. Uparalleled protection from the neck down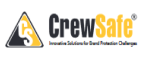 X-TRASAFE CrewSafe Utility Knife
The X-TRASAFE Utility Knife was developed as a safe alternative to standard utility knive blades. Environmentally friendly replaceable cartridges.
Lineman's Lotion
Protect the hands that do the job. Developed and formulated specifically for working hands