THE SAFETY EXPERTS

Stauffer Glove & Safety. Your partner for safety equipment, PPE, work gloves, protective eyeglasses, goggles, harnesses, ear plugs, hard hats and more!

DuPont
DuPont provides industry leading protective options designed to keep you safe on the job. Uparalleled protection from the neck down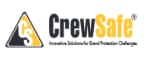 X-TRASAFE CrewSafe Utility Knife
The X-TRASAFE Utility Knife was developed as a safe alternative to standard utility knive blades. Environmentally friendly replaceable cartridges.
Lineman's Lotion
Protect the hands that do the job. Developed and formulated specifically for working hands