National Safety Stand-Down 2022
National Safety Stand-Down 2022
Get Ready for the National Safety Stand-Down This May 2022
If you aren't familiar with the National Safety Stand-Down, it is a voluntary event to set aside time for employers to discuss safety with employees. In the construction industry, the term "safety stand-down" describes various activities that pause normal work to focus on a particular safety issue. For example, some businesses may use stand-downs to discuss specific hazards present on-site as an intervention, but the OSHA campaign uses the stand-down to spotlight fall hazards.
Did you know that falls are responsible for the highest number of deaths in the construction industry, contributing to 351 worker deaths in 2020 alone? In addition, fall protection is the most frequently cited OSHA violation every year.
These stand-downs present the opportunity for employers to have a serious conversation with workers about fall hazards and protective methods, reviewing company safety goals, expectations, and policies. Workers should also be encouraged to talk to management freely about potential fall hazards they've noticed on the job site.
For 2022, the 9th annual National Safety Stand-Down will take place May 2-6.
How Do I Conduct a Safety Stand-Down?
You can conduct a Safety Stand-Down by taking a break to have a guided talk with your team, or alongside another safety activity like developing rescue plans, running through safety equipment inspections, or discussing specific hazards.
Participation is easy: just hold a Stand-Down and visit the OSHA Stand-Down website to download a certificate. Employers can provide feedback and download Certificates of Participation based on their experience. The certificate pages will be active on May 2 on OSHA's Stop Falls Stand-Down page and on the National Safety Council's (NSC) webpages.
The length of the Safety Stand-Down is up to you. It can be as simple as a 15-minute chat or several hours of training over a week.
Three Tips for Hosting A Safety Stand-Down:
Plan Ahead.
Schedule the stand-down ahead of time to maximize participation. Schedule the stand-down at a time convenient for all workers to avoid disrupting a job site's deadlines. Offer your employees lunch to encourage them to participate.
Choose A Topic.
Choose a focused topic designed to address current job site priorities (think ladder, scaffolding, or roofing safety.) You can access free safety resources from NAHB for ideas and share their written handout materials with workers so they have reliable information on hand:

Hold Your Stand-Down.

Keep the information shared during the session short, simple, and impactful. Visual aids can help drive important concepts home, and hands-on demonstrations can make the event more engaging and memorable. Remember to share safety information digitally so your team has various options for accessign it.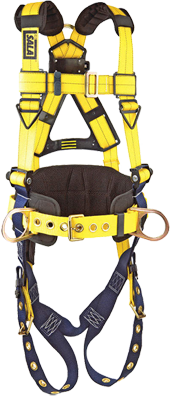 Choosing the Right PPE
A culture of safety is just as important as PPE. Learn how to develop your safety program.
Shop Fall Protection
A fall hazard is any hazard in the workspace that could cause an accidental loss of balance or control.
I've Already Participated in the National Safety Stand-Down. Should I Do It Again?
Each time you participate in the National Safety Stand-Down, you show your employees your commitment to fall prevention and other safety issues. There are Platinum, Gold, Silver, and Bronze Certificates depending on how many years you have participated, so you can progress through the different types year after year. OSHA and their partners also use attendance data and feedback you provide during the certificate form submission process to improve future events.
Are There Planned Events Near Me That My Team Can Join?
A list of Events in your area can be found by visiting OSHA's Stand-Down website. These events are free and open to the public.
Do I Have To Participate Between May 2-6 To Get A Certificate?
Certificates will be available from May 2 until June 30th to allow companies to participate in the Stand-Down at their convenience.
Minimize Your Team's Fall Risks with the National Safety Stand-Down and Products From Stauffer
At Stauffer Glove & Safety, we have been serving clients with fall protection and other safety gear since 1907, so we have deep knowledge and expertise in providing PPE to facilities like yours. We've been family-owned for five generations, with safety specialists embedded across the country. And with over 350,000 square feet of warehousing and $25M in PPE inventory available, we can serve organizations of any size. Contact us and we'll help guide you through optimizing your PPE management program. We have a team available to help with discovery, installation, implementation, and ongoing support.
Question for Stauffer: Are there any particular fall protection products that we could highlight here -- maybe some best sellers, top quality, or new products?